A Customer Loyalty Program is an ultimate tool for organizations to engage customers and ensure consumer retention. Due to the development of digital technologies, we can digitalize most of the features in customer loyalty programs within a mobile app, which helps organizations promote customer engagement better.
Let's take an overview of the mobile loyalty app creating process in order to in-depth utilize it: Mobile Loyalty App – Let's digitalize your customer loyalty program.
On top of this, we are proud to be an official partner with VitaDairy on their journey to develop the first mobile loyalty app for dairy consumers in the Vietnam market.
About VitaDairy
VitaDairy is a well-known organization in Vietnam within the dairy market. Also, VitaDairy has diversity in the product line, moreover, their biggest set goal is to become "Top 1 Colostrum Milk Organization in Vietnam". To contribute to the sustainable healthcare of customers, VitaDairy often researches and develops the newest services and products for them. More importantly, VitaDairy always pays attention to patients, gives them useful advice via scientific nutritional meals, contributing to improving their quality of life.
The Context
After a 15-year journey with the mission and goal of "Strengthening Vitality", VitaDairy always wishes to accompany their customers in taking care of the health of babies and loved ones within the family, also enhancing customer retention in an exciting and comfortable experience.
To obtain this objective, VitaDairy shall need an expert in creating interactive experiences for users by taking advantage of digitized aspects via a mobile app.
The Solution
In order to fulfill the requirements of the client, TESO has built up an innovative mobile loyalty app on both IOS and Android platforms.
Loyalty Scheme: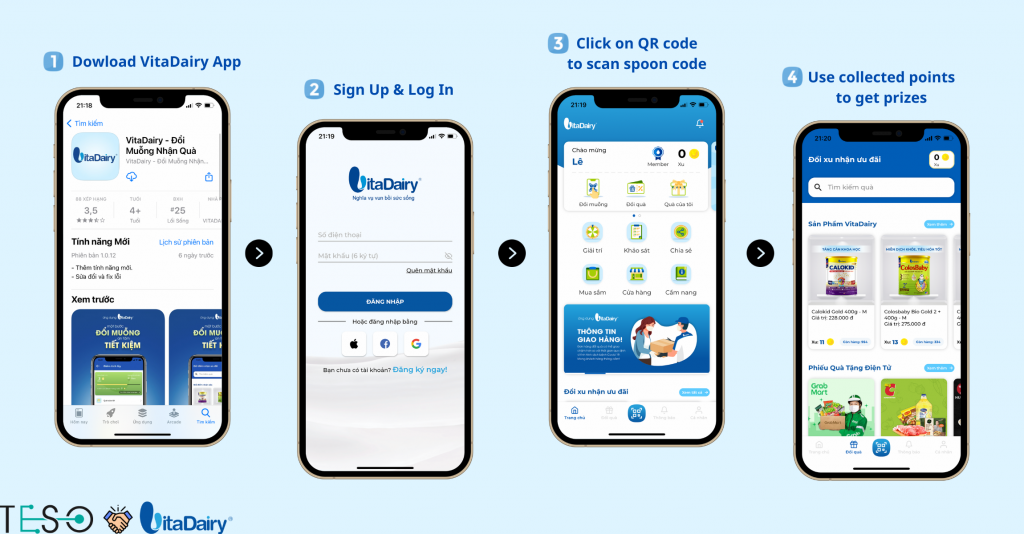 Features within mobile loyalty app to drive user engagements besides the loyalty scheme:
Log In/Sign up: Sign up with essential information such as name, address, phone number, email, and passwords. Also, users can log in via Facebook, Google, Apple ID, and phone number.
Gamification: Lucky spin with a lot of interesting prizes – Users who download the VitaDairy App and successfully exchange spoons receive accumulated coins and will immediately receive lucky spins.
E-vouchers: E-vouchers result in a diversity of prizes. We integrated with GOTIT for creating the e-gifts system, which includes the products of Grab Mart, Grab Transportation, BigC, and Hutong. From this, VitaDairy attracts users to collect more points for the bigger prizes.
Voicebot: Moreover, we have connected VitaDairy App with Vietguys – Mobile Marketing Solutions to set up a voice bot system to remind users to use their vouchers before expiration.
Referral Code: Users can refer their friends to install a VitaDairy App by using their referral code. As a result, they can earn some valuable prizes and points.
Online Shop: To fulfill the requirements of online shopping, the VitaDairy App directly links to the E-commerce platform within VitaDairy.
Communication: For more discussion, users can call or text message the support team of VitaDairy.
Settings: Users can modify their profile, and change passwords whenever they want.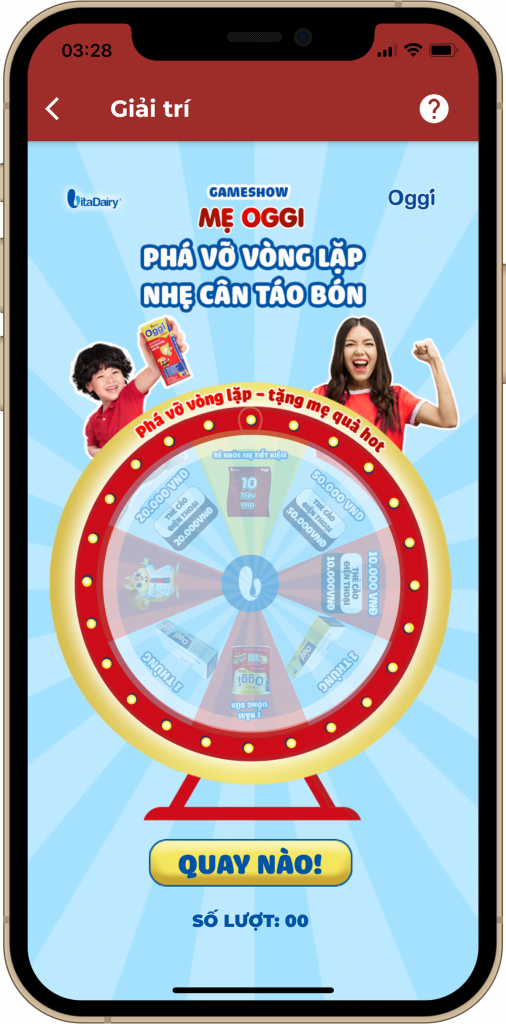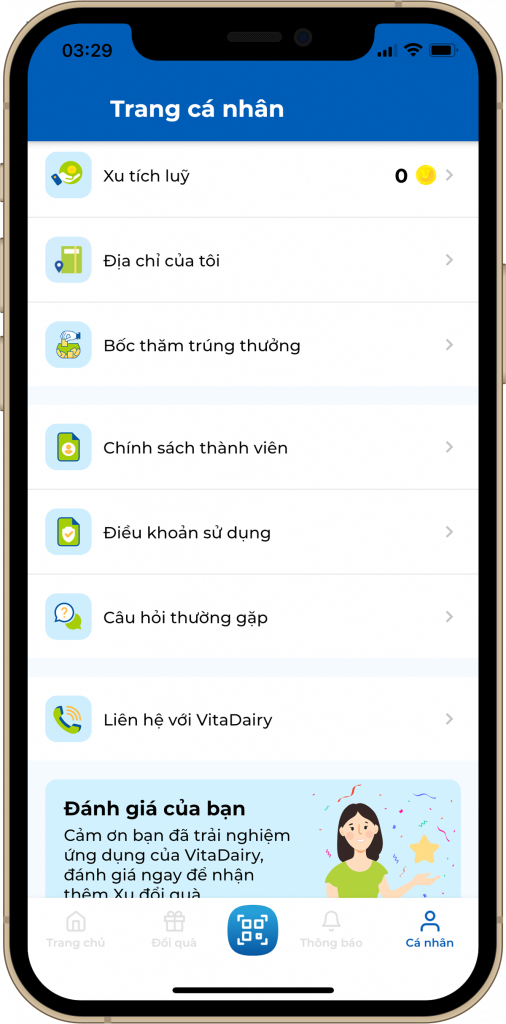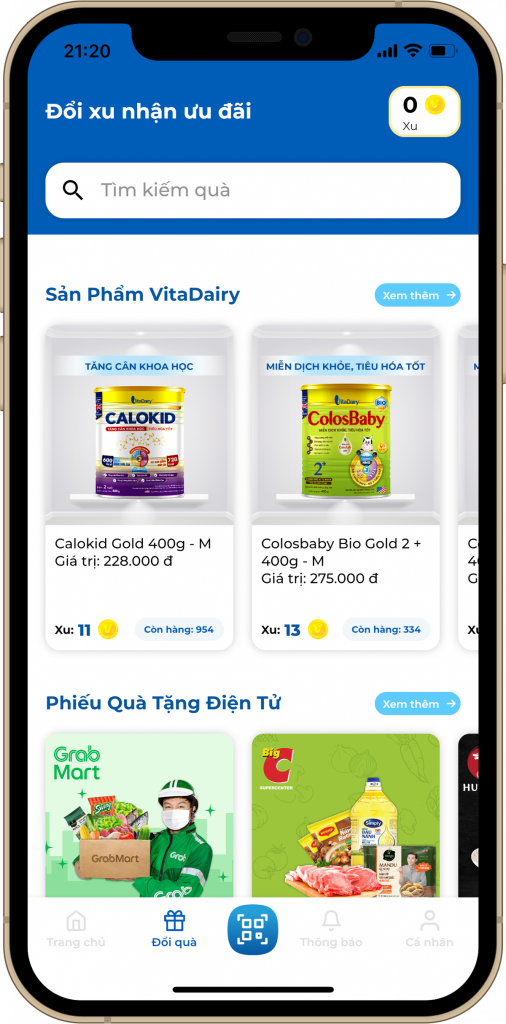 Application Design:
The User Interface design is modern and eye-catching, whose main colors are light-blue and green. Furthermore, whitespace helps users have a friendly and interactive experience. More importantly, the navigation process of the VitaDairy App is very smooth. Therefore, users do not need to worry about waiting time.
Architecture:
Flutter – is a cross-platform application development platform for iOS and Android developed by Google. Flutter is a reactive and innovative platform for developing mobile apps. Flutter's hot reload is highly preferred for developers that want to test and prototype user interfaces.
React JS – is a library written in Javascript, used to build user interfaces (UI). React is widely used and has a rich and diverse ecosystem. Due to the effectiveness of React JS, the device's interface is more improved, which leads to the smoothness of mobile apps in progress.
Java – is defined as a programming language that is object-oriented, independent, and specifically functional. With the motto: "Write Once, Run Anywhere", Java is strongly evaluated to be taken advantage of by most developers.
=> This project featured Flutter – React JS in the front-end and Java in the back-end. As a result, the app will be more flexible, stable, and well-performed.
The Result
The first loyalty reward application in the Dairy industry in Vietnam.
Gained 100K+ users after 6 months out to the market, launched without app crashes.
Excited client and a long-term relationship.
VitaDairy is step by step achieving their goal to become "Top 1 Colostrum Milk Organization in Vietnam".
If you still do not know where to start in building or creating your mobile loyalty app, TESO – we are ready to help you out at any time. You can schedule a call with our expert here: https://calendly.com/quynh-tesosoft/business-meeting?month=2021-10.