Welcome to Part 2 of our three-part article on how we dealt with COVID-19's effects and continue to do so.
We described how careful planning and expertise with technology enabled us to rapidly adapt to travel and business limits while also offering additional support for our employees in the last post.
Managing Increased Demand While Upholding Our High Quality Standard
We began to notice the consequences of COVID-19 before it was acknowledged as a global concern because one of our major Chinese partners was impacted by government-mandated testing facility closures in early January 2020. As other countries imposed restrictions, new and current partners began to employ online proctoring services in greater numbers.
Expansion of a business is commonly regarded as a "good" problem. COVID-19, on the other hand, was the reason of this expansion, which had a detrimental impact on us and our ability to operate. As demand for online proctoring services grew, our facilities faced a slew of issues, including forced shutdowns, operational capacity constraints, and dangers to our employees' health and safety.
Our global presence aided the spread of COVID-19, as we had 8 facilities around the world at the time. However, adding more proctors would not be enough to meet the increased demand.
The following were some of the most significant issues we faced:
Platform performance enhancements
Streamlining the onboarding of new clients
Improving the test-taking experience
Performance of the Platform
It's more complicated than simply employing additional personnel to conduct a larger number of proctoring sessions. During the first three months of the epidemic, our engineering and platform operations teams observed a 134 percent spike in traffic. We were able to horizontally grow our IT platform quite easily because we were already using cloud services.
However, this does not address inefficiencies in code or database queries, which could have a significant influence on platform performance during busy hours. We were able to pinpoint exactly where our code and query inefficiencies existed, opening the route to correcting our difficulties, thanks to platform optimization techniques and real-time monitoring tools.
Our software quality control team was also forced to look at load testing from a fresh perspective as a result of the traffic spike, which helped us develop a more effective scaling plan and prioritize work.
Onboarding of New Clients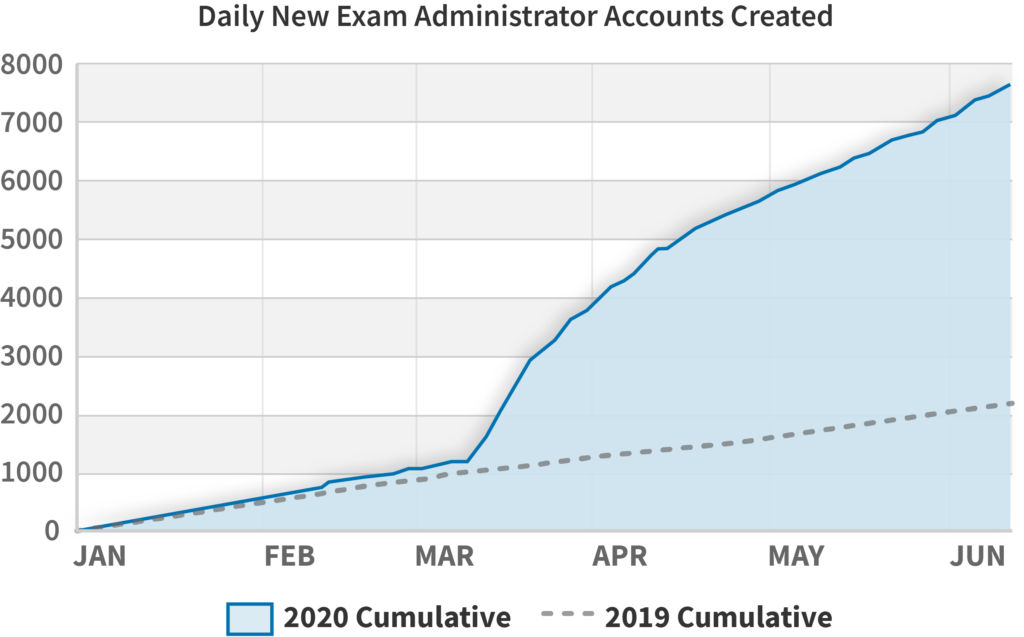 We gave a high-touch, white-glove approach to preparing new exam administrators prior to the epidemic. Our experts met with administrators one-on-one or, in some circumstances, traveled to the client's campus to train a large number of people in person. As demand for online proctoring solutions grew, the number of new administrator accounts established in our platform increased dramatically—from 17 per day on average to 137 per day on average between March 9 and April 9, 2020, a 292 percent increase. We couldn't teach administrators one by one at that point. We needed a more efficient training process that didn't sacrifice quality or client service. We had to construct numerous resources that could be provided in bulk because our training model didn't account for this. To assist administrators in self-training, we created new support articles, step-by-step tutorials within the proctoring software, FAQs, how-to manuals, and more. In addition, we created and promoted a daily repeating webinar series to train all new administrators in bulk. This strategy provided a conduit for administrators to ask inquiries and solve specific problems as needed.
Experience of the Test-Taker
As the number of test providers with whom we collaborated expanded, so did the number of new test takers who were unfamiliar with our process, processes, and technology. When it came to using our system, the new test-takers had to surmount a learning curve, which resulted in a 300 percent increase in support interactions by April 2020. Furthermore, we have seen an increase in concerns regarding how we proctor and how this may affect test-takers' privacy, partly due to the removal of the option of how and where they might take an exam. Because test centers were no longer available, folks who would not normally take an exam online were forced to do so.
We wanted test-takers to feel secure in the knowledge that their personal information and privacy were safe with us. We needed to make our processes and terms of service more open in order to do so. We began by partnering with academic experts, educational institutions, test-takers, and industry providers to support an effort. We wanted to underline the important rights that test takers should have while taking a distant test or engaging in online learning. The outcome was a published document called the "Student Bill of Rights," which aims to foster open dialogue about how we might make test-takers feel safe while working remotely or digitally.
We also recognized an opportunity to review our user interfaces and improve the overall user experience. Over the course of a few months, we cut our support interaction rates by 40% and slashed our time-to-resolution by 98.8% while maintaining our satisfaction levels at or above 89 percent.
Learned Lessons
While having more demand was a wonderful thing, it still needed to be addressed and carefully evaluated. The increased demand had an impact on every element of our company. But, with careful thought, investigation, and execution, we were able to transform our difficulties into possibilities for growth.
Make use of real-time platform monitoring systems and make an effort to instrument your applications.
Take the time to identify processes that are inefficient.
Pay attention to the needs of the users.